Greasewood Gallery is a traditional art gallery exhibiting works by various artists and in various mediums. Oil and watercolor paintings; original photography and Giclee prints; sculpture; glass, wood and jewelry creations all may be found at Greasewood Gallery. Many of the featured artists have ties to the Big Bend area of West Texas and often exhibit works which feature the beautifully rugged landscape.
For general information or to purchase a painting please contact Vicki Lynn Barge at 1-432-729-4134 or vicki_barge@yahoo.com
In the Gallery Now
STEVE SMITH – "QUARTER MOON"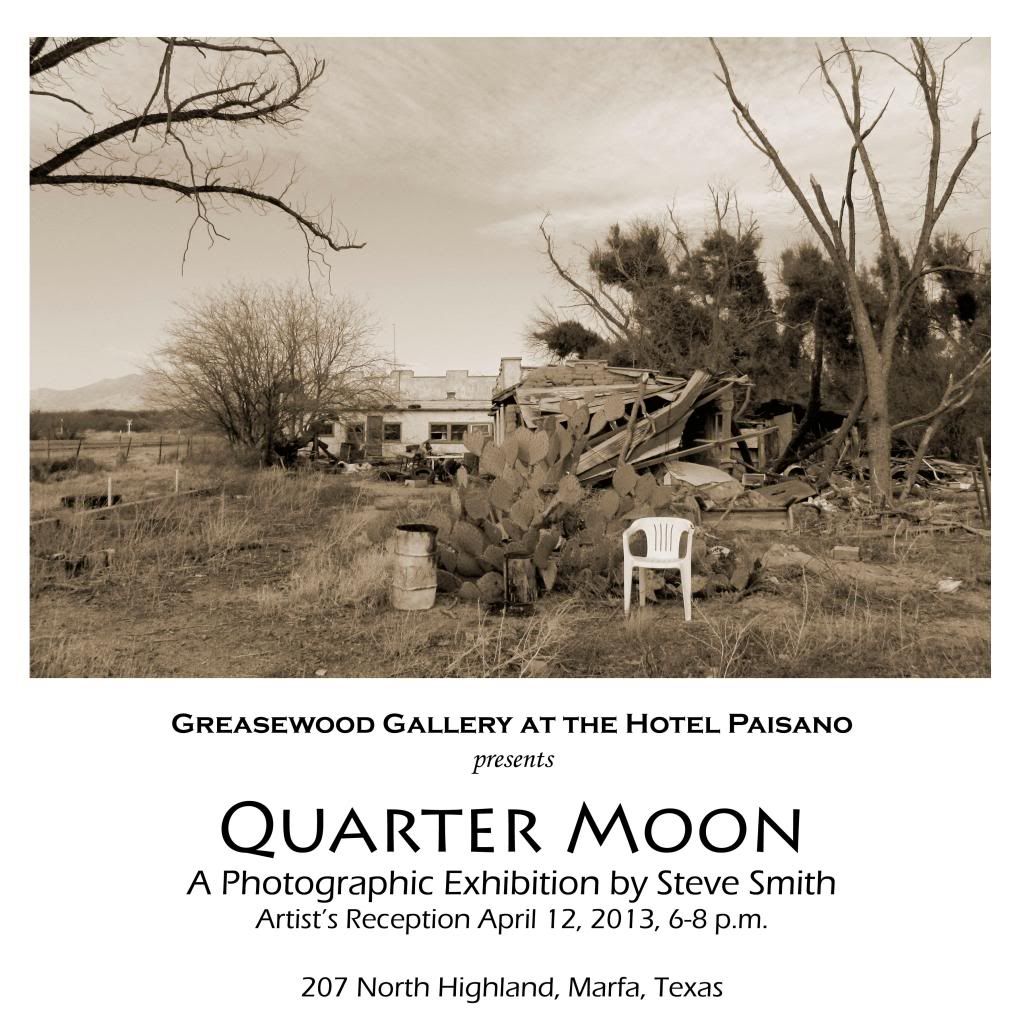 Greasewood Gallery at The Hotel Paisano will be hosting a new photographic exhibition entitled "Quarter Moon" beginning Friday, April 12, 2013. The exhibit will feature work by photographer Steve Smith.
Smith, who currently resides in Fort Davis, Texas says he "grew up in Rochester New York, spent three years in the Marine Corps, some time in the late sixties in San Francisco at the San Francisco Art Institute and, quite by accident, two years in Paris." His work has been shown in group and solo exhibits since 1970 all across the country, from Massachusetts to Oregon and is represented in gallery, corporate and private collections including the Library of Congress in Washington, D.C.
"Smith has perpetuated the subtle and difficult art of making something from nothing by [his] careful and sympathetic images of our surroundings. Ranch houses, wire fences, washing on a line…have all been preserved by his observation to remind us of life as it is lived, and he makes something timeless of the here and now. He sidles up to the world, apparently unobserved, and reveals a keen and sympathetic vision. His pictures have no hysterics, no post-modern hyperbole. They are what they are…exquisite in their detail, composition and tonality."
"Quarter Moon"  focuses on local scenes of Fort Davis, Marfa, Alpine and Valentine. As well as some striking compositions taken at a lonely, abandoned motor court that Smith noticed on his frequent travels to Arizona.
An artist's reception will be hosted on Friday evening, April 12, 2013, 6-8 p.m. The public is invited.
The Hotel Paisano is located at 207 North Highland in Marfa. Gallery hours are 8am-8pm daily. For more information, please contact Vicki Lynn Barge, gallery director, at 432-729-4134.